Working as a team since 1998, Jeremy Lamb and Terry Sheehan formed EirEng Consulting Engineers in 2011 to provide excellent cost-effective engineering services to clients while preserving client focus and relationships. Together Jeremy and Terry have a combined directorial experience of over forty years and over sixty years as Consulting Engineers delivering projects in Ireland, UK, USA, and around the world across a broad range of Civil and Structural Engineering project types. Jeremy and Terry's commitment to service, coupled with an integrated and sustainable approach to design, is built into the fabric of EirEng and shared among all staff.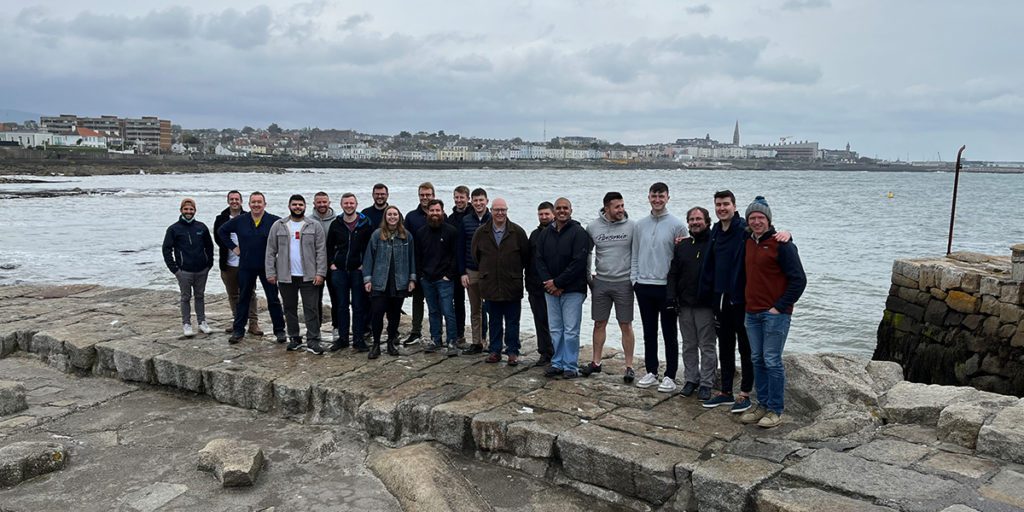 This has led to a wide-ranging client base that continues to grow across a range of sectors, including a particular expertise in Temperature Controlled and Automated Distribution Centres. The initial staff of 3 in a small Dun Laoghaire office in 2011 is now approaching 40 across two offices, since the Bath office opened in 2020. We hire the best people who share our beliefs and commitments.
After a little over 10 years as Managing Director, Terry handed over the top job to Jeremy, in line with their commitment to sustainability in the company management. Terry reverted to his Project/Executive Director role and continues to work closely with the EirEng team and our clients.
The approach at EirEng is based on Client loyalty and successfully challenging project-wide and related disciplines to work together cooperatively to achieve optimal integrated results: client satisfaction with competitive cost. It is both gratifying and validating to see a large proportion of our work coming from repeat clients.
A look back over some key moments in our history
EirEng have been trading for over 10 years. During this time the company has seen a significant amount of planned growth in both reputation and work load.
2022
A New Look for EirEng
EirEng Rebranding put in place.
2022
Jeremy Lamb Managing Director
On completion of his agreed term, Terry hands over role of MD to Jeremy.
2022
New Senior Appointments
EirEng strengthen management team with appointment of three new associates along with the promotion of Conor Hanney as the fourth EirEng Director.
2021
Staff Increase
EirEng Staff numbers increase to 30. A 900% increase in 10 years.
2020
New Bath Office
EirEng Consulting Engineers (UK) Ltd is incorporated and the new UK office is opened in Bath.
2019
Eoghan Deasy Appointed Director
Eoghan Deasy appointed third Director in EirEng and Head of Civil Engineering.
2018
Retail Portfolio Strengthens
EirEng Retail Portfolio expands with the appointment to even further stages of the development of Omni Park Shopping Centre and the New Tesco Superstore in Liffey Valley Shopping Centre in Dublin.
2017
Ocado Overseas Projects
EirEng are enlisted by Ocado to assist them in delivering their Smart-platform facilities for overseas partners.
2016
First Amazon Project Win
EirEng begin working on Amazon Projects.
2016
EirEng are one of the three founding practices who come together to provide a multi-disciplinary service as Momentum Projects Limited.
2016
Increased Staff Numbers
Staff numbers increase steadily from 3 to 20 over 5 years.
2015
Ocado Erith
EirEng are appointed to design Ocado's largest Smart-Platform Customer Fulfillment Centre to date - Erith.
2014
Marks & Spencer Logistics Facilities
EirEng begin working with M&S on their logistics facilities.
2014
First OSP CFC
EirEng are appointed to design Ocado's Smart-Platform, Customer Fulfillment Centre in Andover.
2013
First Ocado Project Wins
First commissions from Ocado on modifications to their existing customer fulfillment centres.
2012
Sainsburys Warehouse
First UK Warehousing Work as EirEng for Sainsburys.
2012
EirEng work with Tesco
Tesco decide to continue association with EirEng Directors which started in 1997 and appoint EirEng to multiple projects including Dundalk Shopping Centre Replacement
2011
EirEng Launched
Terry & Jeremy found EirEng Consulting Engineers.
We believe teamwork and clear communication are the key principles required to achieve successful project outcomes. This communication is required between all parties to understand and meet defined requirements; cooperation and clear interactions are required to execute the requirements; and mutual respect is exchanged when communication and cooperation are fulfilled.
EirEng's experienced team of engineers and specialists bring valuable knowledge to each project. Our processes are detailed but simple, to ensure we keep variables to a minimum, budgets and timelines are within scope, and most importantly, to keep partners and stakeholders enthusiastic and customers satisfied. A gratifying amount of our work comes from existing clients who return for our technical capabilities and friendly approach.
At EirEng, we choose the brightest and most rounded engineers to work with us, who thrive on challenges and delight in thinking creatively outside of the box. We are familiar with all start-to-finish building processes, which allows us a vantage point for managing projects. Our staff are the recipients of many prestigious sustainability recognitions and awards on projects over their careers.